Career Coaching and Interview Preparation

Attention All Officers and Enlisted Personnel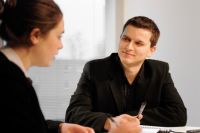 CareerPro Global and 21stCentury Resumes is pleased to announce the availability of Career Coaching and Interview Preparation services. Our comprehensive coaching options, led by a certified employment interview professional (CEIP), have helped numerous clients, from entry level to SES, develop more confidence in developing their oral presentations in support of their job applications, and have helped provide them with little known secrets such as how to identify and adapt to an interviewer's style, how to master behavioral-based interviewing, and much more.
Below is an overview of our two interview preparation packages. For more information and a free consultation, please call (800) 471-9201 and ask for one of our Career Coaches.
Basic Interview Coaching
This package is ideal for the person who's fairly confident in their oral presentation skills, but needs a starting point to help put together a strategic action plan to develop a job-winning oral presentation. You'll learn about the different interview types and questions typically asked in most interviews. You'll also learn how to identify and adapt your answers to the interviewer's style. This package includes:
General Interviewing Insights Assessment (GIIA).

This specialized assessment, which takes about 10 minutes and can be done in the comfort of your own home, provides a very realistic and typically accurate assessment of how you communicate with others and how others perceive you. This is important because it can raise awareness of flaws within your communication style that might be holding you back from success.

One hour of coaching.

We'll review your GIIA and also present an interactive interviewing success model to help you begin preparing your presidential statement and overview, which will increase your interviewing success. This foundation will give you a strategic direction to help prepare for your next interview, be it a phone screening, one-on-one, or group/panel.

One week of e-mail follow-up with your coach.

We'll assist you with questions and other matters not covered during our initial phone consultation.
Behavioral Interview Coaching
This more advanced package is designed for the professional who would like to practice their interviewing skills with a coach In addition to the areas covered in our basic interview coaching package, this package, which places more of an emphasis on behavioral interview questions will include:
A 30-minute, recorded mock interview.

We'll craft 12-15 questions based on your target position or job to represent a sampling of different interview question types. You will also receive a CD-ROM of your recorded mock interview at the conclusion of your program.

An evaluation of your answers done live with your coach.

We'll set aside a meeting time to play back your answers, at which time your coach will provide constructive feedback designed to raise your awareness of any deficiencies and to reinforce any strengths.

One week of e-mail follow-up with your coach.

We'll assist you with questions and other matters not covered during our initial phone consultations.
Submit online request form here.
Company Background
CareerProPlus has been developing professional resumes since 1986. We create strategic and custom resume packages for individuals to enhance their career opportunities.
We remain on the cutting edge of all aspects of hiring in all career fields - Military, Federal Government and Private Sectors.
CareerProPlus combines several decades of industry writing experience with the most advanced technology in the industry to empower us to produce job-winning resume presentations for our clients.
We also pride ourselves in producing results and outstanding customer service. And it shows... 68% of new clients were referred by satisfied customers, with a 99.6% customer satisfaction ratio.
Over 30,000 smiles served.
Contact Information
Mailing Address
CareerProPlus
173 Pierce Avenue
Macon, Georgia 31204
Toll Free
(800) 471-9201
International Phone
(478) 742-2442
Fax
(478) 742-2882