Title:How To Find Target Companies For Your Job Search
Author:Hannah Morgan
Date:July 2021
Source:Career Sherpa - Reprinted with permission
If you are looking for resources to help you find target companies for your job search, you've come to the right place. You'll find lists, databases and tools to help identify potential employers.
How To Find Target Companies For Your Job Search
Conducting a proactive job search requires that you have a plan.
Your job search plan needs to go beyond just spraying-and-praying your resume to hundreds of job postings.
Instead, learn how to build a company list of top employers for your job search.
If you talk to anyone who has ever been in sales you make have heard they have prospect lists or leads.
These lists contain company and contact information for people who MAY be interested in the product or service they are promoting.
In your case, you need a prospect list made up of target companies. These target companies could potentially need your skills or expertise.
How To Begin If You Don't Have Any Ideas?
This post won't help you if you don't have any thoughts or ideas on what you want to do next. Sorry. But you can read Transferring Your Skills to A New Career for help with that.
My guess is, you probably do have some idea of places you would like to work or a job or two you would be interested in.
Maybe you heard about a company in the news or have heard people rave about the company they work for. This is a starting point. You have to trust in the exploration process.
Also think about companies you are a customer of. How great would it be to work for them?
Best Company Lists
Every year, the following resources update their list of "best places to work" or "best companies to work for." Use each list to get you started:
Glassdoor.com's Best Places to Work
Fortune's 100 Best Companies to Work For
Search for "Top 100" and "Best Employer" lists for your city
Step 1:
Go through the list and identify 3-5 companies that sound interesting. You don't need to do a lot of outside research. Just read the write up.
Step 2:
What, if anything, do the companies you've selected have in common:
Industry
Number of employees
Geographic location
Step 3:
Find more companies that have similar qualities. How many more? It depends, but generally, you want at least 50 companies on your target list. To find more companies, use some of the databases and tools below.
I'm going to use a common example to help you see what you can do to expand your list of target companies.
Let's say you would love to work for Google because it is innovative, sounds like a good place to work and most importantly, they hire people who do what you do...technical writers, for example.
Your next question should be, what companies are similar to Google or do what Google does?
Databases
There are three popular company databases you can access at no cost. But in order to find similar companies, you have to use the fields available in the database. And the one thing you can assume would be a commonality or enable you to find similar companies is their industry.
D&B/Hoovers (only basic level information is free), Yahoo Finance and LinkedIn are just three of many resources to help you identify competitors or allow you to search by companies by industry.
I'll continue with the Google example:
D&B/Hoovers
Go to the Company Search page and enter the name of a company.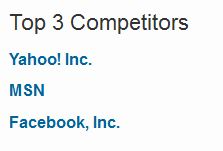 And while you are here, also notice the competitors listed (these are more companies to add to your list!)
Hoovers tags Google as being in these industries: Internet Search & Navigation Services, Professional Services Sector, Advertising & Marketing Services, Media, Internet Publishing, Broadcasting & Search Portals
These are industries you may want to research and find more potential target companies.
YAHOO FINANCE
In the "enter symbol page" (not in the top search bar) on Yahoo Finance, type the name of the company.
Yahoo Finance categorizes Google as Internet Information Providers
And here is the competitor information from Yahoo Finance (add these to your list)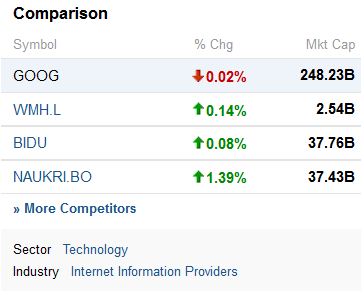 LINKEDIN
Select the "company" search option from the search bar and type the company name.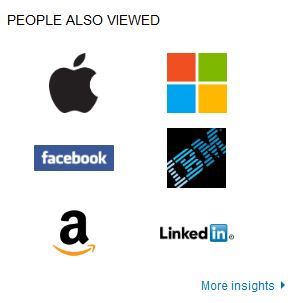 Google lists themselves on LinkedIn as Internet
People who viewed Google also viewed these companies (consider them targets too!)
Now that you know the industry and some competitors, continue to look at those industry lists for more potential companies.
There Are More Company Databases
Now that you know what industry to research, you are ready to use it for your list building. You are looking for the names of companies that fall into the same or similar industry.
CareerOneStop Business Finder
This free database is a can provide good information when you finally get it. Start your search at the Business Finder page.
Enter the Business Name, Industry or Occupation or select a Zip Code.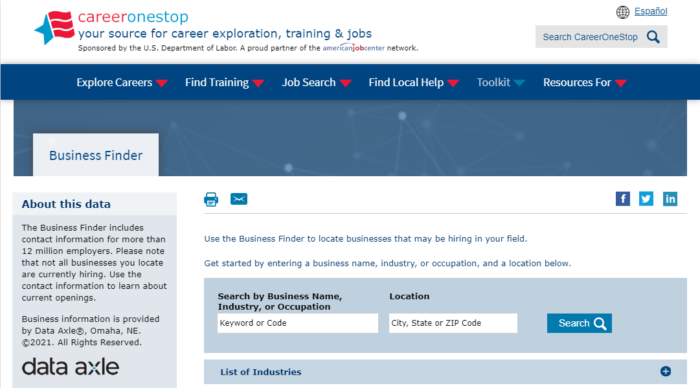 Your Local Library Has Databases
There are lots of research tools out there, but if you are not a researcher by nature, I suggest you go to your library and ask for help researching companies within a specific industry.
Libraries also have access to databases you may not, such as Reference Solutions (formerly known as ReferenceUSA). As a member of the library, you have access to this database at no cost. And you may be able to access it from home.
Remember, librarians have a degree in research, do you?
Lists & Directories
Here are some other list resources for you to check out:
Your local Chamber of Commerce
Professional and Industry Associations
See what companies are sponsoring events or offering presentations.
Alumni Databases
Your college or university either has a database of alumni or a LinkedIn page you can use to help you identify popular companies alumni work for. If you aren't familiar with how LinkedIn's alumni pages work, check this article out.
Find Out About Small Companies
There is a growing trend, smaller companies are doing a bulk of the hiring. The thing is, smaller companies are harder to find. They don't have the marketing budget, they don't have the employee network, they are running lean and mean. So how do you find out about them? Here are places to check:
Recipients of Venture Capital funding.
Members of Chambers of Commerce
Professional associations
Local economic development site
If you really want to work for a small employer, I suggest you search all these resources. Plus, check your local newspaper regularly.
Use the Power of Google
You can search for companies using Google, for example:
"Best Marketing Companies in Detroit Michigan"
Also set up Google Alerts to increase your odds of finding out about new companies. Susan Joyce of Job-Hunt.org recently published a post on setting up Google Alerts!
Ask People You Know
Friends & Family
Friends and family members may LOVE their employer. But don't ask if they are hiring. Instead, ask if they like where they work and why.
Service Providers
You can also ask service providers (hairdressers, accountants, financial planners, mechanics) if they know about companies that are in your industry. You might say something like:
"Have you heard about any tech companies in the area?"
Past Co-Workers/Colleagues
Some of the people you used to work with may have moved on to other companies. Ask them the same question:
"Have you heard of any tech companies that are doing great things?"
Clients/Customers
Your past clients or customers, suppliers or vendors also have their finger on the pulse of what's happening in your industry. Ask them what companies they are watching.
DO NOT ELIMINATE COMPANIES YET
As you go through these lists and databases, you may have quite a long list. That's great.
Actually, it is better to have more companies than not enough. Focus on the top 10 first. Do some basic research and find the names of people you want to reach out to. But don't stop there. Keep researching the other companies on the list. You want this to be a broad outreach. (And you don't want to miss out on any opportunities that might be immediately available).
But, before you take a company off your list, have a reason for taking it off your list. Just because one person says they don't like the company or they have a few bad reviews doesn't necessarily mean it will be bad for you. Continue pursuing each company until you have solid information (or better yet, land a job interview).
Put It In Writing
List all the company names on a spreadsheet or even better on your marketing plan.
Your spreadsheet will help you keep track of:
Contacts you know at each company
People you want to meet at each company
Career page link
Jobs you applied for and status
With your list of top 10 companies, begin researching each one. The best research you can do will come from having conversations with people (multiple people) who work for the company or used to work for the company. That's your next step!
Don't Go Away...You're not done yet!
You aren't just looking at what jobs they have posted. They may not have anything listed.
Your next mission is to find people you can have an informational meeting with inside each of those 10 companies.
In order to do this, you need to identify who you know or are connected to inside the company. Here's how to find the names of people within target companies.