Title:Where are the best cities for Veterans to find Jobs
Author:Ron Rutherford
Date:November 2013
Source:TAOnline
Volume:Volume 3 Issue 88
Want to put those skills you learned in the military to good use? Then your best bet for a job maybe Texas or Florida. A recent USAA and Hiring Our Heroes commissioned survey to find the places for veteran jobs listed three Texas cities and three in Florida among its top-10. And TAOnline has more than 2,800 jobs listed in these cities from employers looking to hire veterans.
The Sperling's BestPlaces list reviewed nearly 380 major U.S. metropolitan areas. Factors taken into account for this survey include:
Military skill-related jobs
Number of government jobs
Recent job growth
Presence of colleges/universities
Unemployment rate
Volume of DoD contracts
Health Resources
VA hospitals
Some cities were excluded for high unemployment rate, high cost of living and/or high violent crime rate.
When all the research came in, here are the results*:
Jobs within a 50-mile radius of city center
This is the second straight year USAA and a military partner commissioned this survey. Ironically, only one of the 2012 winners made the 2013 list. TAOnline had more than 2,700 openings listed in these Top-10 cities*.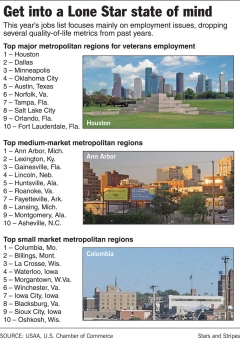 Jobs within a 50-mile radius of city center
Whether you desire to utilize your military-related skills in you civilian career, or choose a different career path, TAOnline has more than 20,000 jobs from military friendly companies. TAOnline is always free to the job-seekers, offering career advice articles, interview and resume tips and the latest job fair information.