Title:Operation Gratitude 9/11 digital letter writing campaign
Author:VA Careers
Date:September 2021
Source:U.S. Department of Veterans Affairs &copy 2021, Reprinted with permission
Volume:Volume 3 Issue 179
On the upcoming 20th anniversary of 9/11 and its designation as a National Day of Service, Operation Gratitude welcomes grateful Americans to express their appreciation for the service and sacrifice of first responders, service members and Veterans through its digital letter writing campaign. Challenge America's Veteran Arts Community (CAVARTS) has created the moving visual art and poetry for this campaign.
Please take five minutes to write a letter today through the digital platform here.
We have a huge goal of 200,000 letters written through our digital platform by Sept. 12, and need your help to share with your community.
The platform is open now and will close at 11:59pm PST on Sept. 12.
Here are the two winning designs: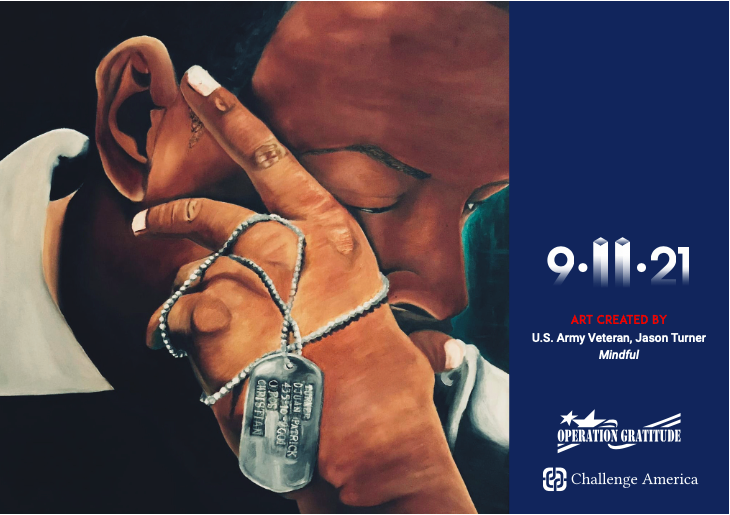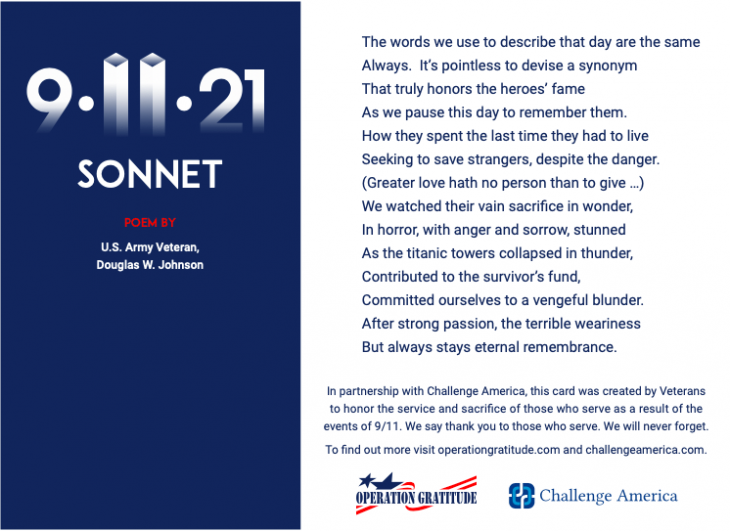 This piece was completed in remembrance of the personal loss of my brother, as well as my brothers and sisters in arms and friends lost while serving during 9/11 and after. Their memories continue to flood my thoughts. I wanted to create an image that signified that. That period of my life will always weigh heavily on me. However, there's always someone thinking about you, and they have your six.
We disagreed, and still disagree, whether being overseas had any point. We never disagreed on whether our sacrifices, and those who went before us, had meaning.
The words we use sound so cliche, so trite, but the deeds that we try to describe are so poignant and fraught with emotion that we keep seeking ways to make the words evoke the memory of the day we beheld the heroic humans. We are not all called to greatness, but we can all live so that one day it may be said of us, "This, too, was humanity". The heroes of 9/11 led the way for the heroes of OIF and OEF who followed.
Those who wish to view the art online may visit the Challenge America blog: challengeamerica.com/blog.
Please take 5 minutes to write a letter today through our digital platform here.
The sharing of any non-VA information does not constitute an endorsement of products and services on the part of VA.