It's the end of the year and things are winding down. You're full from Thanksgiving and there are more holidays to come. Perhaps your mind is on football, or family, or food, or shopping. You're transitioning out of the military next year, but the job search can wait a bit. Besides, companies aren't hiring in December, right?
Wrong. Actually, the hiring numbers over the last few years haven't been bad. Since 2011, Bureau of Labor Statistics data shows December hiring at about 75% of average monthly hiring for the year, but the number of jobs filled still exceeds 3 million. That's a lot of open slots to ignore for a month.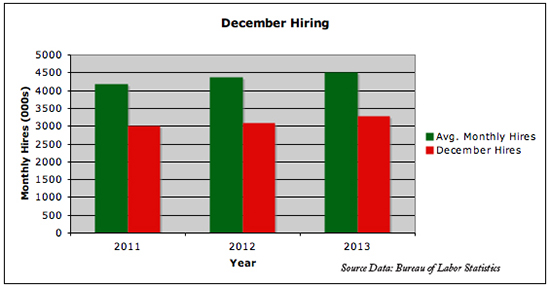 If you're going to be moving from the military to a civilian job or a federal position next year, December is a really good time to work on the career move. Sure, there are plenty of excuses, but there are more good reasons to press on with your job search through the end of the year. Here are just a few:
5 Good Reasons
Fewer openings, but also less competition

— the number of positions filled may drop a bit in December, but the level of competition does, too. Even though hiring decreases, your visibility may actually increase.

December Departures

— As bad as it sounds, some employees wait for the holiday bonus before turning in their notice. If you're actively engaged in your career search, you may be first in line to fill the slot.

Better Quality Jobs

— The quality of positions available may actually be better in December. This one's theoretical, but there's a prevailing opinion that December openings tend to be mission critical. They're positions that must be filled quickly. Less critical hires can wait for the new year.

Networking

— December is a good time to network. The pace is a little slower, and decision makers tend to be in the office and available. The holidays are also a good time to rekindle old acquaintances and to touch base with old friends and colleagues.

Get ahead for 2015

— Even if December hiring activity is slower, January is typically one of the best hiring months of the year, with well over 4 million positions filled in each year since 2012. Even if you don't get a bite in December, your name will be in the hat when activity increases at the beginning of 2015.
Counterintuitive
Perhaps the best reason to move ahead with your job search in December is that everyone else tends to slack off. It's seems counterintuitive at first, but bucking the trend by working on your career during the holidays actually makes really good sense. You'll keep up the momentum and may have a better chance of getting the attention of decision makers who'll appreciate your diligence and discipline. If you're transitioning from the military into a private sector or federal job, these are traits that you'll want to emphasize.
December can also be a great time to work on your resume and your interviewing skills. Whether you're looking for a federal job or a private sector position, remember that the master resume writers at militaryresumewriters.com can provide valuable help when you need it. We can also assist with some extra training - if you'd like to sharpen up your interview skills, contact one of our Master Federal Career Coaches for assistance.
Finally, we do hope you'll take some time to enjoy the holidays! Best wishes for a Wonderful Season from all of us at CareerPro Global!