Title:Veterans can now file an appeal online with the Board of Veterans' Appeals
Author:VAntage Point Contributor
Date:July 2022
Source:U.S. Department of Veterans Affairs &copy 2022, Reprinted with permission
Volume:Volume 3 Issue 189
The Board of Veterans' Appeals (Board, BVA) continues to modernize to meet Veterans' needs. The Board recently updated and improved its website to make sure all the information you need is available and easy to understand. It also includes what the Board does and what to expect during an appeal. Biggest news of all? Veterans can now file their request to appeal to the Board online!
How do you request a Board Appeal online?
If you disagree with a decision VA made on your claim, you can log into VA.gov and electronically file the VA Form 10182.
The process is simple!
The ability to file an appeal online is just one of the many technology modernizations the Board has made to ensure Veterans have easy access to the Board. This initiative supports VA's commitment to help Veterans receive faster resolutions to their disagreements with VA claims decisions.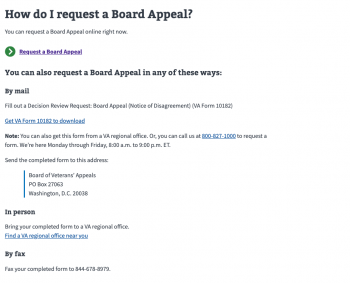 Did you know that you can also have a Virtual Tele-Hearing?
In addition to filing an appeal online, Veterans who selected a hearing can have those hearings online. No need to report in person to a local VA office. All you need is a Wi-Fi connection. Additional information about virtual tele-hearings can be found here.
Visit www.bva.va.gov for more information.