Title:Seeking Veterans for the midterm elections
Author:news.VA.gov
Date:October 2022
Source:U.S. Department of Veterans Affairs &copy 2022, Reprinted with permission
Volume:Volume 3 Issue 192
As political candidates jockey for support during the stretch run to the U.S. midterm elections on November 8, state and local officials are scrambling to staff polling sites with election volunteers. Major indicators are projecting a massive poll worker shortage for the 2022 midterms and beyond.
Aware of this potential crisis, the Vet the Vote campaign is seeking to recruit 100,000 Veterans and military family members to be poll workers in the 2022 midterms and other future elections. Vet the Vote is a coalition of 26 Veteran and military service organizations and four civic groups, including the U.S. Chamber of Commerce and the National Football League (NFL).
More than 1 million volunteers are needed to run national elections. If only 10% of the 17 million American Veterans enlisted as poll workers, that would easily fill the void of any poll worker shortage.
"Poll workers tend to come from our senior citizen population, and concerns regarding COVID-19 have understandably decreased volunteerism among that population," said Air Force Veteran Anil Nathan, an executive director of the nonprofit group We the Veterans, which organized the campaign. "In general, though, there's a constant need to mobilize new poll workers, and we would like to see the Veteran and military family community make volunteering as poll workers a new norm of public service within our community."
Poll workers key to preserving integrity of elections
Poll workers play a critical role in elections while getting to see the truest form of American democracy in action. They are responsible for opening the polls in the morning; checking in voters and issuing ballots; maintaining the chain of custody of ballots, voting equipment and supplies; and reconciling the number of voters checked in with the number of ballots cast at their location, among other duties. Poll workers make on average $100 to $150 a day, including paid training in many locations.
But a shortage of poll workers can create operational challenges, including the unexpected closure of polling sites and long lines.
Army Veteran James Hardaway is training to be a poll worker during the early voting period from October 20 to November 5 in Raleigh, North Carolina. He'll be on the staff at North Carolina State University processing ballots with election software and will assist voters in other ways.
Hardaway believes his role as a poll worker is key to preserving the integrity of the election.
"I registered to be an election precinct staff member to help reinforce trust in our election process, as Veterans have earned an extremely high level of trust in this area," he said. "It is critical to ensure that each voter is properly processed so their vote is counted."
In the Army, Hardaway served in countries where free and democratic elections weren't guaranteed. While Iraq's coalition government was being created, he was in Tikrit during the country's 2008 legislative elections and in the Iraqi capital, Baghdad, during the 2010 parliamentary elections.
"I've seen the transformative power that elections can have on countries when citizens trust the outcome," he said. "Those experiences caused me to look differently at our own processes and never take them for granted. Additionally, many states, including North Carolina, are short on election staff this cycle. I want to ensure that everyone has easy access to vote when it's right for them. Fewer staff means longer lines and potentially less time available for potential voters."
family photo of man, woman, small child and baby
Air Force Veteran Kristen Berg, pictured here with her family, served as a poll worker in Wisconsin during the 2020 presidential election.
"It's in our blood"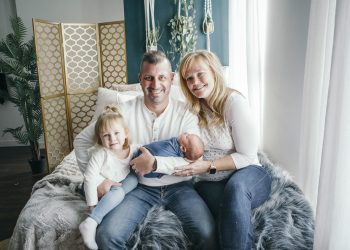 "When I left the military, I was ready to transition to civilian life, but I think a lot of Veterans maintain a longstanding desire to serve," she said. "It's in our blood, so to speak. Whether it's in a nationwide movement, such as voting, or even local community involvement, church events or helping with our kids' assorted activities. Working at the polls is a great way to answer a larger call, and I found personal value and fulfillment in doing so."
Thus far, the Vet the Vote campaign has recruited more than 2,000 Veterans and military family members to serve as poll workers—enough to staff over 200 large polling stations. However, the number of volunteers is expected to escalate as Vet the Vote's partnership with the NFL takes hold with the kickoff of the 2022 football season, and as the Vet the Vote coalition reaches more of its direct audience of 3.5 million people as the midterms draw closer.
Vet the Vote filmed a public service announcement with the NFL that will run on the NFL Network. The campaign is also engaging with many teams and planning on in-person events at games. The NFL has also been supporting the campaign on its social media through the league's NFL Votes initiative.
Officials often recruit poll workers at the last minute
With training needed for poll workers, it's important for Veterans and military family members to volunteer as soon as possible to have the greatest chance of serving. However, Vet the Vote campaign leaders are encouraging volunteers to consider enlisting even late into the election cycle.
"We've heard directly from election officials in a few states that they often end up recruiting poll workers at the last minute because people's schedules change, and they are unable to work," Nathan said. "One official told us that 20% of her poll worker staff reported the week before a primary that they could not work the polls that day. She was scrambling to recruit. It's a very fluid dynamic, and people should prepare to be called up at the last minute."
Veterans can receive around $150 per day for serving as a county poll worker.
60% of counties report a shortage of poll workers for 2022 election cycle.
Vet the Vote makes it easy for Veterans to apply to be poll workers.
Sign up to be a poll worker. The Vet the Vote campaign will be providing heavily discounted Vet the Vote t-shirts to those who register.
The sharing of any non-VA information does not constitute an endorsement of products and services on the part of VA. Veterans should verify the information with the organization offering.