Title:New "Ask VA" portal allows anyone to contact VA securely
Author:VAntage Point Contributor
Date:November 2021
Source:U.S. Department of Veterans Affairs &copy 2021, Reprinted with permission
Volume:Volume 3 Issue 181
Do you want to find more information on VA benefits and services? Do you have a question, concern, recommendation, or compliment for VA? Then use the new "Ask VA" portal!
What is Ask VA?
The Ask VA online question portal, launched on October 18, 2021, was created to provide the Veteran community with an easier, faster and more convenient way to get their questions answered. It replaces VA's outdated Inquiry Routing & Information System (IRIS) and the GI Bill Help Portal.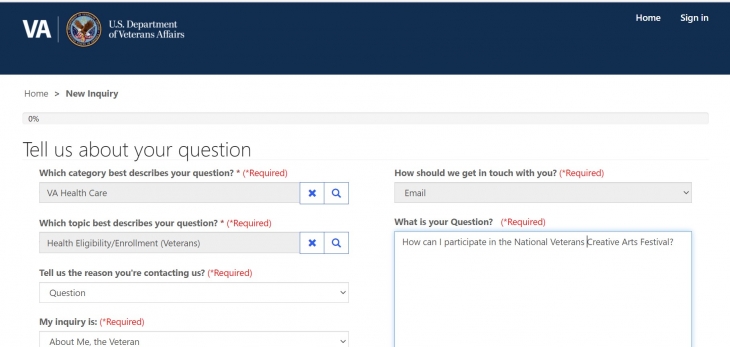 Who Can Access Ask VA?
Anyone can access Ask VA to submit a question at any time. Veterans, their families, caregivers, beneficiaries, dependents, or the general public can use Ask VA for specific or broad information on VA benefits and services. Veterans do not have to be enrolled in VA to submit a question. In fact, Ask VA can provide helpful information for Veterans to enroll and begin their VA journey!
How does Ask VA Work?
After a question or comment is submitted, Ask VA routes it to the best subject matter expert to respond. Users can search for answers by category or specific topics, write their specific question in a free-text box, and indicate how they want to be contacted for an answer — via email, phone or secure VA.gov account.
Since its launch, customers have used Ask VA to ask about their VA claim or appeal status and to send in documentation for their GI Bill benefit.
Use a Secure VA.gov Account to Access all Ask VA Features
Anyone can submit a question as a general user with Ask VA and receive a timely email response. Users also have the option to create or log in to an existing VA.gov account to experience all of Ask VA's features.
Logging in to VA.gov through a secure authentication process allows our Veteran community to safeguard their personal information, send and receive sensitive information, and easily track their questions and answers. Using Ask VA through a secure VA.gov account includes additional benefits, like:
Identifying information will be automatically filled in, saving time;
Work in progress can be saved to come back to later;
Users can add more information to a question they've already submitted or ask a follow-up question to receive information specific to an existing question;
Users can receive answers based on preferred method of communication — via email, phone, or secure VA.gov account; and
Users can track the status, history and answers to previous questions or conversations.
Using Ask VA by logging in to a secure VA.gov account allows the user to see the history of messages to VA and VA's answers. This allows the user to refer back to helpful information at any time in a single location, and eliminates the hassle of searching through emails or letters or phone messages to find what they need. And users can be updated via email when VA posts new messages to Ask VA.
How to Get a Verified VA.gov Account
To learn more about creating a verified ID.me account, a Premium My HealtheVet account, or a Premium DS Logon account to be able to access all Ask VA's features, click on the links below:
Veterans Asked. Ask VA Answered.
Veterans asked for a simple, intuitive way to interact with VA, and Ask VA was carefully designed to provide that. VA worked with Veterans over several months to refine the Ask VA online experience.
VA's goal is to ensure Ask VA continues to lead the way in modernizing customers' VA experience, incorporating our Veteran community's feedback to best meet their needs and preferences.
Click here to access Ask VA and submit your question online!